Make the connection and receive evidence of your crossed over loved ones and their continued life on the other side. Join Shauna Domalain, Transformational Medium, as she takes you on a journey to connect with your inner mediumship gifts while experiencing the spirit world in a meaningful, loving way. Love never dies and our lost loved ones are always eager to make the connection!
Episodes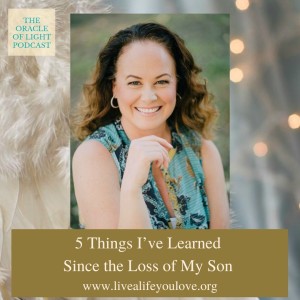 Monday Jun 20, 2022
Monday Jun 20, 2022
Losing a child is a loss like no other. And, it is a loss misunderstood by many. On my good days the lingering pain from losing Jack was still there just under the surface.
Here is what I know from my nine years of meandering through the inconceivable...
Love never dies
No matter how long it's been, I'm still triggered from time to time
Heartache and joy can co-exist
I'm not the same person I was before I lost Jack
Suffering is a choice
You can learn more or schedule a session at www.livealifeyoulove.org or email shauna@livealifeyoulove.org
The Growing Up in Heaven Program is now available at www.livealifeyoulove.org where you'll learn a proven, step-by-step process to connect with, and experience your child as they grow up in Heaven.
With love and blessings,
Shauna xo
© 2022 Shauna Domalain